Installing the Designer
To edit Document Creator layouts you can use the Document Creator Designer. This is a stand-alone application that can be installed locally on a Windows PC. Every time the application is started it will automatically check for and install updates when they are available.

To install the designer:
Invoke the Download Designer action on the Document Creator Setup page.
Download the .application file and wait for the download to complete.
Run the .application file to start the installation, and follow the steps in the installer.
Attention
Depending on the configurations on your workstation/PC, you may initially be blocked from installing the application, e.g., due to restrictions implied by the configuration of the ClickOnce Trust Prompt or Windows Defender SmartScreen. Please contact your system administrator if you need help to resolve any issues of this nature.
Important
The Document Creator Designer includes a 14-day unrestricted, free trial. Simply click on the Use Trial button to start using your free Designer trial period!
To explore the features of the Designer you can also check out the Document Creator Designer Demo.
If you would like to order a product key to activate Document Creator and its designer, please fill in the Order Form on our website.
Attention
The Document Creator Designer can only be activated with a product key for licenses in the new license model (S/M/L/XL). Please see the Pricing page for an overview of the available editions. Please contact us if you require a new product key for the new license model.
The first time you open the Document Creator Designer the "Document Creator Designer Activation" form is shown.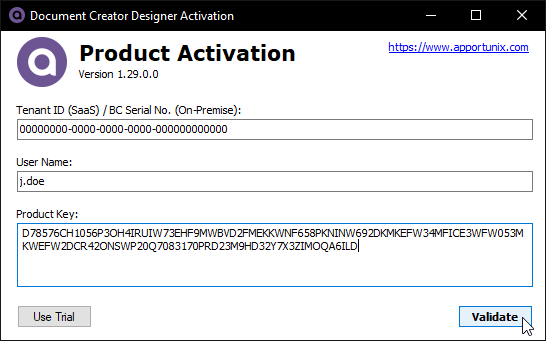 To activate the designer:
Enter the (AAD) Tenant ID or BC License Serial No. of your Business Central tenant in the Tenant ID (SaaS) / BC Serial No. (On-Premise) field. The ID for your tenant can be found on the Document Creator Setup page.
Enter a User Name in the User Name field.
Enter the Product Key for your tenant in the Product Key field.
Click on the Validate button.